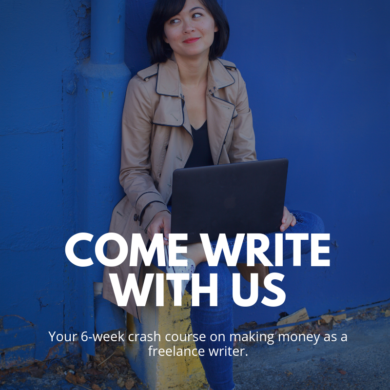 Freelance writing can be a lucrative side hustle – if you know what you're doing.
Kristin Wong is a freelance writer and journalist who moved to Los Angeles in 2010 to pursue a writing career. Since then, she's written for Fox Digital, MSN Living, Glamour magazine, and now regularly contributes to the New York Times. Kristin knows the freelance writing industry inside and out – and she's sharing everything she knows in her writing course, Come Write With Us. You can enroll here to work with her. Get in quick, because the doors close on January 15. And if you've ever wondered how to make money as a writer with no experience, Kristin is sharing a few tips with us today!
It's a question I get all the time: How do I get writing gigs when I have zero experience? It's a chicken-and-egg problem, really. You need experience to get bylines, but how do you get experience without bylines?
When I'm asked this question, I consider two things: What worked for me early in my career, and what I would do NOW if I had to start from scratch. Here's my answer — three things to keep in mind if you want to start a freelance writing career (or side hustle) without zero experience.
Focus on ideas, not inexperience.
 
When you pitch story ideas to editors, blogs, or publications, don't focus on your lack of experience. Just come up with a great idea, then get right to your pitch. Let's say you want to write about travel. You have a unique idea about discount travel.
Your pitch might look like this:
"Hi [Editor],
 
Travel is more accessible for people than ever, but it's also more uncomfortable than ever.
 
Airlines have 'unbundled' flight prices, making tickets cheaper, but unfortunately, this also means less legroom in front of you. During a recent (and highly uncomfortable) trip on Spirit Airlines, I brainstormed a few ways to make discount travel more comfortable, and I thought it would make for a useful blog post: How to Travel on Cheap Airlines Without Losing Your Mind. Is this something you would be interested in covering?"
 
Sure, if you have bylines, it helps to mention them. But if you don't, there's no need to point it out. Editors and blog managers care less about where people have written and more about really great ideas – because that's what their readers are after.
If you do lack experience, the person you're pitching may want to see the post first. Consider writing it before you pitch, then ask if you can send them the full story so they can check it out.
Search for Gigs Strategically
 
Most writers look for work really inefficiently. Early in my career, I spent months competing for gigs with hundreds of other writers on Upwork. I never landed a single one. Big media companies would post gigs on popular job boards, and I'd spend HOURS perfecting my resume and applying. Later in my career, an editor told me most large publications only post jobs publicly to seem impartial – they almost always already have an internal hire in mind.
Sheesh – I wish I knew this before I wasted my time! Of course, this isn't to say all job postings are bunk, but there are better ways to find gigs.
For example, search Twitter for "hiring a freelance writer" and you'll see real Tweets from editors, startups, and companies who really are actively searching for writers. Or search "pitch me" and find editors who are open to pitches. Connect with these folks and see what kind of stories they're looking for, what kind of topics seem to interest them. Finding work is not a numbers game. It's a game of strategy.
Share your portfolio everywhere!
 
The majority of credible writers I know have platforms, whether it's their own website, a simple Tumblr blog, an account at Medium. When you lack experience, a platform or some kind of online writing portfolio is necessary to establish your credibility as a writer.
Early in my career, I wrote a reported piece on a Colombian photographer I really admired. The piece wasn't published anywhere, but I uploaded it to my website and used it as a writing clip to get gigs. When I pitched editors or applied for gigs, no one knew this wasn't a published piece, nor did they care. It just gave them a clear sense of my writing style and made me look credible.
And put your writing out there! Add your blog or website to your email signature, social media profiles, and so on. Include a "work with me" page on your site, too.
One final piece of advice: Don't be afraid of criticism. In fact, learn to love it. Ask for feedback from friends, loved ones, editors, and peers.
Yes, criticism about your writing can be tough to take, especially early on in your career when you don't have much experience as a professional writer (we've all been there!). But I've met many writers who are resistant to feedback and often defensive about it. I hate to say it, but none of those writers ever get published or get very far with their writing at all. The most successful writers I know learn to not only take feedback and criticism well, but they also see it for what it truly is: free writing advice.
DC here – I want to give a quick endorsement of Kristin. She is an incredible writer and has been freelancing full-time for nearly a decade. Long story short she knows what she's doing! You can enroll in her course by clicking the graphic below. She is only taking people through January 15th, since it's a six-week course where you will have live interactions with Kristin.